Practice Center
Don Butcher, a long time member of the Oakmont Golf Club and former Club Champion, bequeathed a portion of his estate for a practice center at the Club.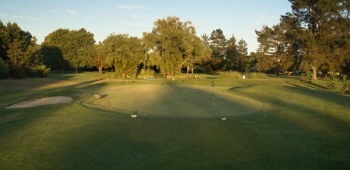 The Nickels Golf Group worked on a final design for the improvements using plans Don had professionally done in 1998. The improvements at the East end of the range include a new 7,500 sq. ft. practice tee, featuring a hybrid Bermuda grass, and a 7,000 sq. ft. practice chipping green with two sand bunkers. A cart path connects to the path on #9 West and looped behind the new practice tee for easy access to the area. Shuttle golf carts are available at the golf shop area for the drive to the new area for those who wish the transportation.
Other improvements included a complete beautification plan to the West #1 tee area, with plantings of shrubs, perennials for color, and trees. Drainage has also been added to the outfield area of the range, which has greatly increased winter access and virtually eliminated closures.